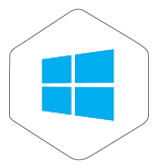 Our advanced cloud VPS infrastructure is designed to be platform independent, and can host a wide variety of Windows operating systems including Windows 2008 VPS Hosting and Windows 2012 VPS Hosting.
64bit Windows VPS:
Windows Server 2008 SP2
Windows Server 2008 R2
Windows Server 2012 Standard 64bit
What are the benefits of a Windows VPS?
A Windows VPS Trial gives you one month of full access to your Windows VPS, without the up front cost associated with paying for a full month of service. This allows you to test drive our services to ensure that they meet the needs of both you and your hosted application. Windows VPS trials are available for both 32 and 64-bit operating systems.
Can I get a Window VPS trial?
You can get a Windows VPS trial, however you will still be required to pay the Microsoft Windows licensing fee of $14.95/mo.