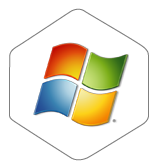 64bit versions available:
Windows Server 2008 is well suited for a VPS Hosting environment, allowing for graphical server administration and easy customer self management. It provides additional security for customers through complete isolation of every server instance within the cloud.
Windows SQL Server & Microsoft Web Server are available as add-on packages for all systems. Windows 2008 VPS hosting licenses are available as a 64-bit version.
Build Your Windows VPS
Create an account
(and deploy your server within minutes)
Next Step: Server Information