The DotBlock Minecraft Stack preinstalls the Minecraft server, as well as a full licensed version of McMyAdmin, an easy to use web control panel for your minecraft server. With our Minecraft stack, you can be online and playing on your own turnkey minecraft VPS with no user limit within minutes!
Operating System:
Details: java-1.6.0-openjdk, McMyAdmin (MCMA), Bukkit
McMyAdmin - Minecraft web administration console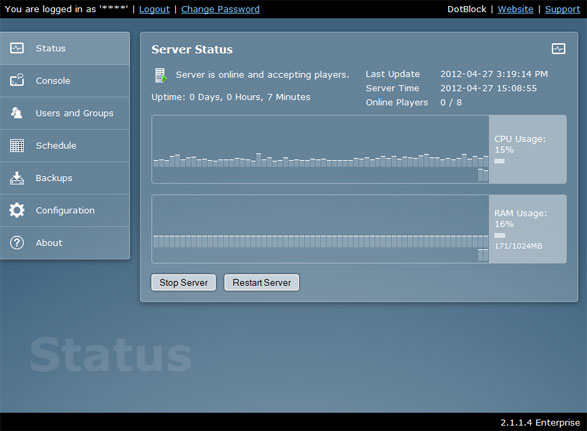 What are the benefits of a Minecraft VPS?
A Minecraft VPS ensures that you and your fellow users will have access to guaranteed resources to ensure the stability and usability of your Minecraft server. Having a dedicated VPS means that your server will not be sharing resources with other applications or users, and guarantees problem free use of your Minecraft server.
How big of a Minecraft VPS do I need?
Standard Minecraft VPS hosting (one block) can handle 8-10 users, and ensures a controlled quality environment for all users. If your server requires more resources due to additional users or use of the various available Minecraft plug-ins, you may want to consider moving up to a two block package.